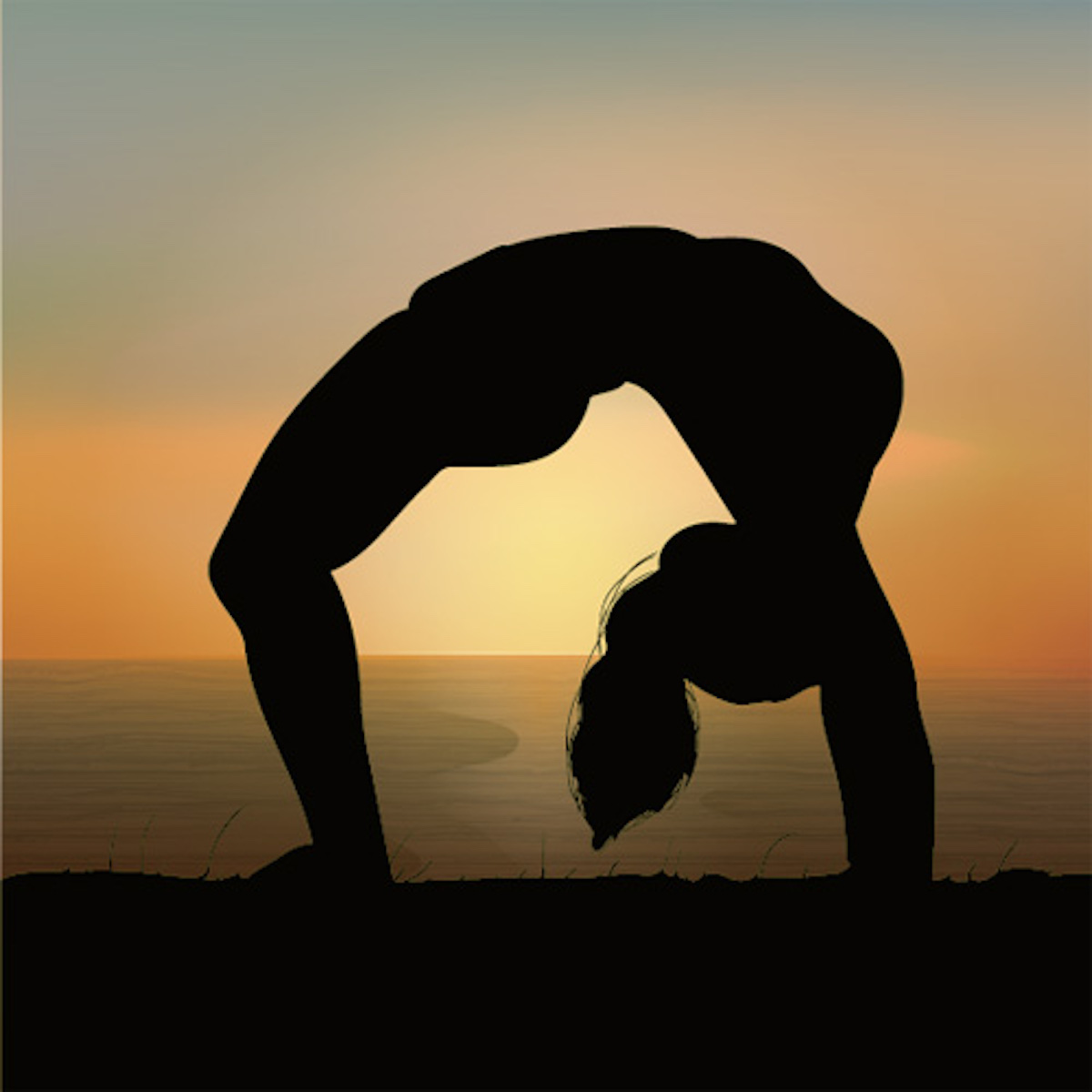 Yoga: Good to get bent out of shape?
Yoga may at first seem to some people like the art of forming a pretzel with one's body but a closer look into this discipline reveals the pursuit of a greater goal. Yoga advocates claim pursuit of physical, mental, and spiritual wellness through this ancient art. Herein, we will explore the thousands of years old Indian practice and see why it is much more than a 'fad' taking the West by storm.
The origins of yoga are speculated to date back to third century BCE but only gained prominence in the West in the 20th century. Yoga gurus from India later introduced yoga to the west, following the success of Swami Vivekanandain the late 19th and early 20th century.1,2 At the turn of the 20th century, yoga was heralded as a system of physical exercise in the West, however, that isn't its primary purpose. The ultimate goal many touts of Yoga is 'moksha' or liberation.
According to David Gordon White, from the 5th century CE onward, the core principles of "yoga" were more or less in place, and variations of these principles developed in various forms over time.3
Or in essence, yoga serves to develop mindfulness, concentration, tranquility, and insight. Apart from the spiritual goals, the physical flow and movements of yoga are claimed to alleviate health problems, reduce stress and make the spine less rigid. Yoga is also used as an exercise program and physical therapy routine. It's important to note, that although there are many uses for yoga and purported benefits, there are published scientific articles for and against these health claims.
In 2015, the Australian Government Dept. of Health published the results of a review of alternative therapies that sought to determine if any were suitable for being covered by health insurance; Yoga was one of 17 practices evaluated for which no clear evidence of effectiveness was found.4
Still, since 2001, the popularity of yoga in the USA has risen constantly. The number of people who practiced some form of yoga has grown from 4 million (in 2001) to 20 million (in 2011) and even caught the president of the United States attention. President Barak Obama subjectively believes it to be a worthy physical exercise.5
Long-term yoga users in the United States have reported both musculoskeletal and mental health improvements, as well as reduced symptoms of certain health conditions.6,7 There is evidence to suggest that regular yoga practice increases brain GABA levels, and yoga has been shown to improve mood and anxiety more than some other metabolically matched exercises, such as walking.8,9,10 Additionally, yoga emphasis on exercise, breathing, and meditation may make it beneficial to those suffering from heart disease.10,11 Overall, studies of the effects of yoga on heart disease suggest that yoga may reduce high blood pressure, and lower cardiovascular risk factors amongst other benefits.12 For chronic low back pain sufferers, clinical trials have demonstrated some efficacy and participants demonstrated notable improvements and further research is merited and ongoing.13-17  Yoga participants, according to certain studies, demonstrated so much improvement, they were able to reduce their reliance on pain medication.18
A small percentage of yoga practitioners each year suffer physical injuries analogous to sports injuries; therefore, caution and common sense are recommended. There are many different forms of yoga, some are relaxing and others are intense – if considering yoga practice, take the time to find which may be most appropriate for you. Additionally, if you have certain health conditions (i.e. heart disease, diabetes, spinal stenosis, arthritis), make sure you consult with a health professional before pursuing any form of physical exercise and how it may help or hurt your condition.
1. Marek Jantos (2012), in Oxford Textbook of Spirituality in Healthcare (Editors: Mark Cobb et al.), Oxford University Press, ISBN 978-0-19-957139-0, pages 362-363
2.James M. Nelson (2009), Psychology, Religion, and Spirituality, Springer, ISBN 978-1-4419-2769-9, pages 78-82
3.Aranya, Swami Hariharananda (2000).Yoga Philosophy of Patanjali with Bhasvati. Calcutta, India: University of Calcutta. p. 1.ISBN 81-87594-00-4.
4.Baggoley C (2015). "Review of the Australian Government Rebate on Natural Therapies for Private Health Insurance"(PDF).Australian Government – Department of Health. Lay summary – Gavura, S. Australian review finds no benefit to 17 natural therapies. Science-Based Medicine. (19 November 2015).
5.Chidanand Rajghatta. "US President Barack Obama throws weight behind yoga". Times of India. Retrieved 2013-04-01.
6.Krisanaprakornkit, T.; Ngamjarus, C.; Witoonchart, C.; Piyavhatkul, N. (2010). "Meditation therapies for attention-deficit/hyperactivity disorder (ADHD)".Cochrane Database of Systematic Reviews (Online) (6): CD006507.doi:10.1002/14651858.CD006507.pub2.PMID 20556767.
7.Ospina, M. B.; Bond, K.; Karkhaneh, M.; et al. (2008). "Clinical trials of meditation practices in health care: characteristics and quality". Journal of Alternative and Complementary Medicine 14 (10): 199–213.
8.Uebelacker, L. A.; Epstein-Lubow, G.; Gaudiano, B. A.; Tremont, G.; Battle, C. L.; Miller, I. W. (2010). "Hatha yoga for depression: a critical review of the evidence for efficacy, plausible mechanisms of action, and directions for future research". Journal of Psychiatric Practice 16 (1): 22–33.doi:10.1097/01.pra.0000367775.88388.96.PMID 20098228.
9.Birdee, Gurjeet S. et al. "Characteristics of Yoga Users: Results of a National Survey." Journal of General Internal Medicine.October 2008, Volume 23 Issue 10.p1653-1658
10."Yoga's ability to improve mood and lessen anxiety is linked to increased levels of a critical brain chemical, research finds". Sciencedaily.com. 12 November 2010.doi:10.1089/acm.2010.0007. Retrieved28 November 2012.
11.Streeter, Chris C. et al. "Effects of Yoga Versus Walking on Mood, Anxiety, and Brain GABA Levels: A Randomized Controlled MRS Study." Journal of Alternative & Complementary Medicine. November 2010, Volume 16 Issue 11, p1145-115
12. Yoga could be good for heart disease. Simultaneous focus on the body, breathing, and mind may be just what the doctor ordered. (2010). Harvard Heart Letter: From Harvard Medical School, 21(3), 5. Retrieved from EBSCOhost.
13.Tilbrook, Helen E; et al. (2011). "Yoga for Chronic Low Back Pain: A Randomized Trial".Ann. Intern. Med. 155 (9): 569–578.doi:10.1059/0003-4819-155-9-201111010-00003 (inactive 2015-11-05).PMID 22041945.
14.Tilbrook, Helen E; et al. (2011). "Yoga for Chronic Low Back Pain: A Randomized Trial".Ann. Intern. Med. 155 (9): 569–578.doi:10.1059/0003-4819-155-9-201111010-00003 (inactive 2015-11-05).PMID 22041945.
15.Sherman, KJ; Cherkin, DC; Erro, J; Miglioretti, DL; Deyo, RA (2005). "Comparing yoga, exercise, and a self-care book for chronic low back pain: a randomized, controlled trial". Ann. Intern. Med. 143 (12): 849–56. doi:10.7326/0003-4819-143-12-200512200-00003. PMID 16365466.
Williams, KA; Petronis, J; Smith, D; et al. (2005). "Effect of Iyengar yoga therapy for chronic low back pain".Pain 115 (1–2): 107–17. doi:10.1016/j.pain.2005.02.016.PMID 15836974.
Chuang, Ling-Hsiang; et al. (2012). "A Pragmatic Multicentered Randomized Controlled Trial of Yoga for Chronic Low Back Pain: Economic Evaluation".Spine 37 (18): 1593–1601.doi:10.1097/BRS.0b013e3182545937.PMID 22433499.
"Researchers Find Yoga May Be Effective For Chronic Low Back Pain In Minority Populations". Sciencedaily.com. 4 November 2009. Retrieved28 November 2012.
Recent Posts