Timothy J. Beacham, M.D., FASA
Louisville Pain Doctor, Capitol Pain Institute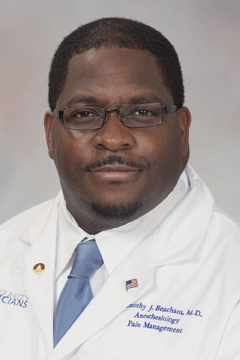 Specialties
---
---
Treatments
---
---
Conditions
---
Dr. Timothy J. Beacham is a graduate of University of Mississippi School of Medicine (UMMC) in Jackson, Mississippi. He completed his internship and residency in anesthesiology at UMMC. He then completed a multidisciplinary pain fellowship also at UMMC. Dr. Beacham is board certified in Interventional Pain Medicine and Anesthesiology.
Before joining CPI, he served as Assistant Professor of Anesthesiology/Pain Medicine at UMMC, Medical Director of Delta Regional Chronic Pain Clinic as well as Director of acute pain services at Delta Regional Medical Center. In addition, he served as medical director of Comprehensive Pain Specialist at several location in Mississippi and Kentucky.
Dr. Beacham has a distinguished career in organized medicine that includes being President of several organizations including the Mississippi Society of Anesthesiology, Mississippi Society of Interventional Pain Physicians, Mississippi Medical and Surgical Association as well as serving a number of leadership roles on several board of trustees and medical executive committees. He has been presented with a number of prestigious awards including Mississippi Business Journal Top 40 Under 40, Who's Who in Physician and Executives of America, America's Top Physician: Pain Medicine 2012, Excellence in Medicine AMA Foundation 2010, to name a select few.
Dr. Beacham has co-authored a number of peer reviewed research articles and book chapters. Dr.Beacham brings a wealth of knowledge and experience using an integrated and balanced approach to help patients regain function and rejoin life.
---
Publications & Recognition
---
Personal